Our solutions
for online retailers
Become a retail partner
Increase your traffic
Our tire price comparison tools such as Tirecomp.com, Tyrecomp.co.uk attract every year more than 2 million visitors worldwide. Broadcast your product catalog and reach out to a large motorists audience searching for tires.
Increase your sales
Internet users consulting our sites are very advanced in their act of purchase. We redirect our traffic directly to your product pages. Increase your sales by targeting our highly qualified users.
Increase your public audience
Put you brand in the spotlight
We highlight your brand through national or international campaigns. Several promotion formats are available (brand day, banners, promotional codes).
Highlight your seasonal operations
Our websites allow you to reach qualified motorists making their purchases on the Internet. Broadcast your seasonal campaigns for the purchase of tires, car parts or for vehicle maintenance.
Enrich and qualify your installers database
Expand your network of installers
We offer a solution for the acquisition and management of installers through the rental of our database. We currently have a network of over 1000 installers throughout France. We will soon open our services to other countries.
Qualify your data
Thanks to numerous contacts with our assembly partners, we offer you complete and up-to-date data on a daily basis. In addition to the contact details, prices and other services of the garages, we will also inform you of the closing dates of installers.
Price and popularity monitoring solutions
Improve your market vision
Thanks to our solutions, we allow you to know which products are popular with our comparison engine's users. Best brands, best tires, get the most popular products monthly.
Keep an eye on the competition
Our unique pricing solution allows you to monitor a defined number of competitors, know your positioning and get for each product that you sell, the best price and average market price. Adjust your prices, your margins, and adapt your strategy according to the market.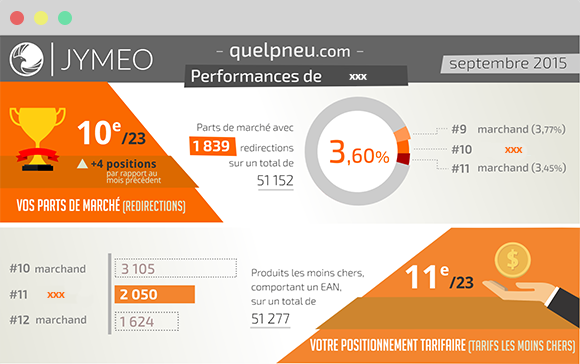 Broadcast your news
Promote your news
The tire price comparison tool Tyrecomp.co.uk publishes a tire blog, available in 5 languages. We devote part of our articles to the news of tire professionals. We propose you to highlight yourself on these blogs by publishing articles to present your activities, news and services!
Improve your SEO
By relaying your news through our quality articles, we include links to your websites, thus promoting your visibility on search engines.